What comes around goes around… 90's fashion is back and so are "old school" traditional media formats, like Out of Home, or OOH as those in "the biz" call it. Like this Instagram post (below) from Lady Gaga promoting her new song on a billboard - if Lady Gaga thinks OOH is cool then it must be, right? So now you're wondering...is OOH just billboards? Can you get creative? How can I track it?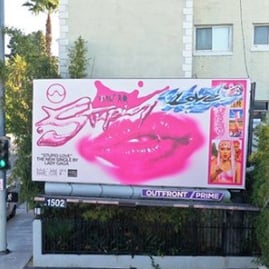 What is considered OOH advertising?
OOH advertising is technically any visual advertising media literally found outside of the home. OOH advertising reaches 98% of the population each week.This can include billboards and signs, ads on street furniture like bus shelters or benches, in transit areas like airports, train, or subway stations, ad-scapes on buildings, wrapped on cars and buses, waste barrels, and movie theatres, and more. That is a lot to take in. The way to simplify this large portfolio of media assets is to define your target demographic, geographic location, campaign timeline, and budget. By doing so, this will help to narrow your search in the city/state you are looking to advertise in.
What Types of Campaigns can OOH Be?
The beauty (pun intended) of OOH is you can get super creative with your media and how you are presenting your campaign. Seeing is believing and being able to see a beautiful diamond ring or watch from a local jeweler, the newest SUV from your favorite auto manufacturer or a delicious looking meal from the restaurant you've been dying to get reservations at is the key to getting people to ACT on your OOH messaging. Conversions, revenue, business and profit — they all depend on a call to action in your messaging. That can be as simple as placing your website on the ad.Companies and brands are also using OOH as a reaction to current events. With the evolution of digital technology, OOH creative copy can be live in a moment's notice. Your team won the big game? Congratulate them the next morning with a sponsorship or campaign promotion attached. Weather updates, weekend plans, there is truly no limit on how creative you can get. (Just no motion can be displayed at street level to prevent accidents from happening) Full motion, no problem. Subway and rail stations can air those types of messages all day!
So, How is OOH Trackable?
ROI is always top of mind. But how can you track OOH efforts as they are technically impressions made to people that are not expecting or looking for your ad? Just like any other traditional media, OOH can be used for brand awareness or call to action. To track these results, you can set up reporting to review by analyzing web traffic, social media follows and engagement, Google search, and even old fashioned phone calls (yes, the phone still works.) Digital advertising is a great compliment to OOH as you can geo-target the specific locations you have purchased through targeted display on mobile and Google Adwords. Social has also been an amazing highlight to OOH efforts. More people than ever are posting pictures and selfies with OOH ads. Yet another way to create more buzz around your OOH campaign is to work with social influencers by having them share content relevant to your brand including the media itself. Most importantly, working with an experienced team to ensure all campaign efforts align will be the best way to ensure tracking is set up correctly for ROI!