This year's Inbound conference was all about AI. The main floor layout took into consideration feedback from last year, so that was great to see! Per usual, the keynotes, break-out sessions, and networking were top-notch.
Our team divided and conquered and went to a variety of breakout sessions covering things like AI for B2B lead generation, How AI is affecting search results real-estate, The 4 Pillars of Building Trust, and of course what's new with the HubSpot Tech Stack Hubs. We highlight some takeaways below.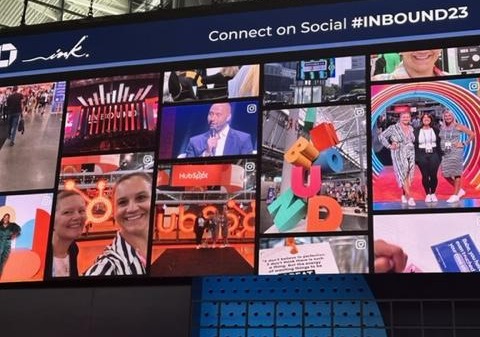 (...that time we made the jumbotron at #Inbound23)
B2B Lead Generation + Building Brand Trust
Most B2B organizations consider their target persona(s) to be unique and therefore craft a UX and messaging strategy that often disrupts the way the consumer is used to buying. Even though an Enterprise offering is unique doesn't mean that buyers aren't looking for these 5 questions to be answered:
1. How much is it
2. Potential problems - how can this go wrong
3. What is everyone saying about it
4. Comparisons (competitor review)
5. What is the best for me, now and long term

You might have a b2b business, but everyone is used to the b2c buyer journey experience. As a business living in an instant gratification world of consumers, you need to adopt, otherwise, prospects will go elsewhere.
Create content that follows these 4 pillars to build trust, address the above questions, and watch your conversions increase.
Pillar 1: TELL > What are you willing to tell that no others are
Pillar 2: SHOW > What are you willing to show that no one else does - the "we aren't afraid to show what our competitors aren't" mentality
Pillar 3: SELL > You must be willing to sell in a way that others don't
Pillar 4: HUMAN > How to humanize your content even if you are using AI
How AI is affecting search-results real-estate
Results real-estate is changing, be aware how AI is impacting search.
We rely on organic traffic - Bing announced new fragmented search platform in January, and in May google followed suit with their new layout/look.
AI -exploratory search - (LMM) fuel these, marketers can't control these - great for b2c, and they favor established brands vs small/new entry brands. Good news- the conversion off these results is better- and you'll see rev go up - bad website traffic, but better for bottom line
Organic results: marketers control these SEM/SEO- real estate is shrinking- used to have 10 no we have 4-6 results show - again favored bigger brand
Perspectives- NEW search vehicle - google intro'd this in May/June to counteract the AI results - and its human created content, 1st person experience (tiktok, reddit, etc- human generated content) If you want to focus activate your customers, get them creating content FOR you, and then use medium/reddit, etc to get content shown here
If you are actively using PPC, and looking to get ahead of these changes we are here to help you navigate the changes.
What's New with HubSpot Growth Stack
As always, Inbound product and service update announcements don't disappoint. This year there have been many updates to the CMS, Ops, Service, and Marketing Hub platforms, but making strides in Freemium > starter > pro > enterprise is what is driving adoption. We highlight some key improvements all customers will see now.
5 new experiences we are excited about:
1. ChatSPOT: ChatGPT + HubSpot have a baby named = ChatSPOT. It's unbelievable what this tool can do when you are using the HubSpot Tech stack, BUT even if you haven't made the jump, you can still access the goods. ChatSpot is your AI-powered sales and marketing assistant designed to help your businesses grow. ChatSpot combines the power of ChatGPT with dozens of unique data sources, most notably the HubSpot CRM. ChatSpot is tailor-made for growing businesses like yours and completely free to use for everyone, even if you aren't yet using the HubSpot CRM. CLICK HERE >>
2. Campaign Assistant -NEW/FREE version > Generate copy for landing pages, emails, or ads in just a few clicks so you can focus on tasks that need a human touch.
3. CRM > Data customization is imperative to business success. Your CRM houses a lot of data and teams often spend too much time looking for the data they need. CRM Customization allows you and your teams to use custom objects, properties, and associations, to organize specific data models in the CRM. The power to easily modify HubSpot's default spaces to match the needs of your team. Lastly, leveraging extensions allows developers to use HubSpot-built components to create net-new UI elements that display custom information.
4. HubSpot SalesHub Tools > NEW prospect smarter and generate more pipeline with the new prospecting workspace, which consolidates your prospecting activities in one unified pane, plus A/B testing in sequences and more. Accelerate revenue growth with new intelligent deal management tools like deal inspection and AI forecasting. And finally, tie it all together with new deal journey analytics, lead funnel reports, and more.
5. AI incorporated tools in the platform > social, content writing assistance. Say goodbye to endless brainstorming sessions. Skyrocket your creativity with the help of AI. HubSpot's AI features ignite inspiration, giving you the tools to effortlessly craft captivating websites, compelling copy, and attention-grabbing social media posts that leave a lasting impact.
These are just a few of our favorites. Read the full report on what's new HERE.
Our Team at Inbound in Boston, MA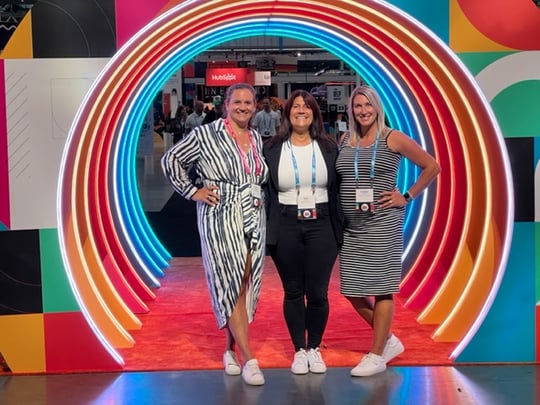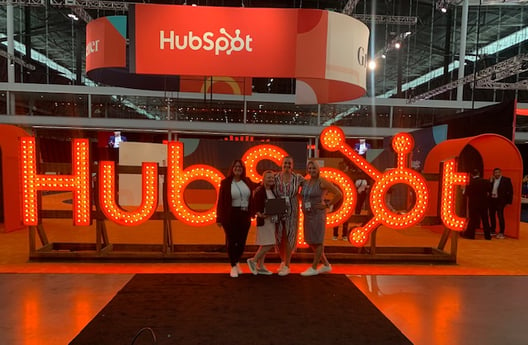 More of our favorite sessions were from Reese Witherspoon (she not only is the latest Billionaire due to her business brand success with Hello Sunshine and Draper James, BUT she has the best manners and is so kind), Derrick Jeter (as Red Sox fans this was ONE keynote from the NYY we approved of), Dr. Huberman from the Huberman Lab, Dharmesh Shah, and Sam Parr (My First Million Podcast/The Hustle). John Mulaney as the comedian guest was unbelievably amazing...
We hope you found some of these insights helpful as you continue to refine your marketing strategy. If you need help planning a road map for success we are happy to help. Contact us here to learn more.