By improving your sales and marketing team's coordination, you'll improve your company's growth. Ensure success by taking time to evaluate these two teams' functionality.
The Inbound methodology has been around for 15+ years and continues to be one of the most attractive ways to market to sales. Core to this process is the relationship between Sales and Marketing.
Formerly, sales and marketing teams were separated. The once-popular silos have proved to reduce collaboration. Today we recognize the need for sales and marketing to come together to discuss issues and work out solutions to help grow business.
The role of marketing provides information, education, and value to your desired personas via your website, email, blog, social, events, out-of-home, print, broadcast, etc. These marketing elements attract your potential customer to your website.
Consumers search for products, information, and services online 90% of the time. It's all about getting found. When they're searching for something related to your brand, when marketing efforts are set up efficiently, they will find you.
Sales are introduced to the flywheel (formerly known as the sales funnel) when the target is ready for more and they've been qualified by the agreed-upon metrics of both teams. Sales will cultivate the buyer's need and build rapport, moving the sale forward.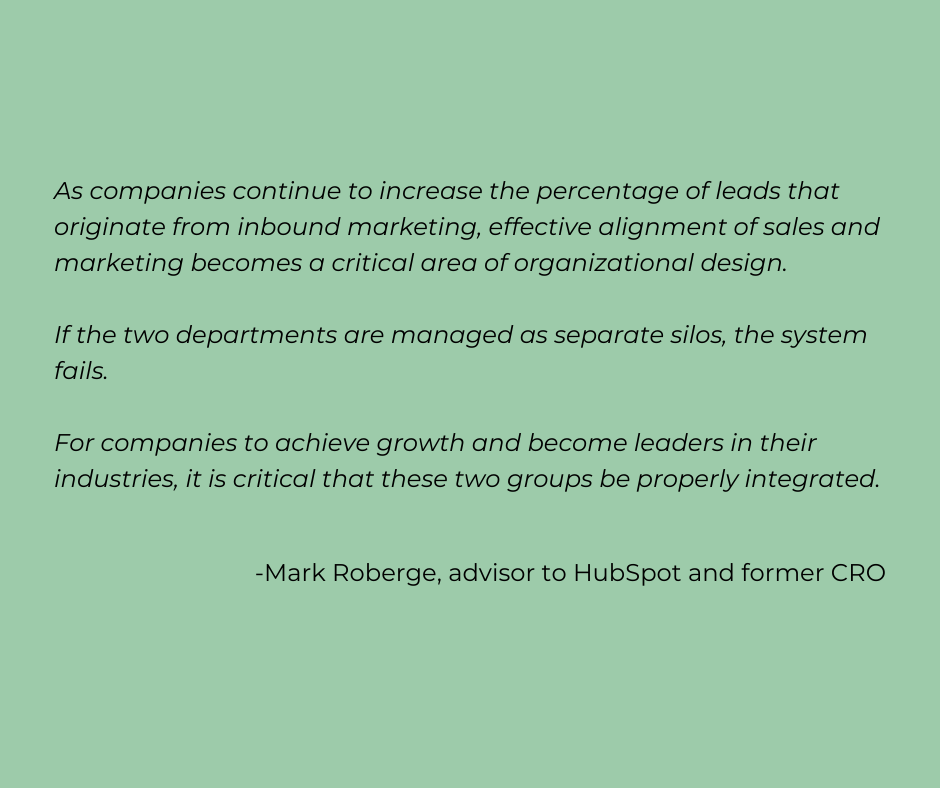 Here are the Top 5 (five) ways to grow a healthy sales and marketing team through the creation of "Smarketing" meetings.
Smarketing meetings are typically a set time when sales and marketing personnel come together to discuss problems and brainstorm solutions for the business.
1. Crafting a great "Smarketing" Meeting
Determine meeting cadence. Consistent, 15 minutes to 1-hour meeting blocks, weekly/bi-weekly. Evolve to find the best time & duration that works for everyone. Share the current activity of each team. If you have a smaller group this can be a great way to gain open discussion. In fact, the smaller the better. You will have problems to solve so be specific, if not picky, on who's in the meeting. Even with spur-of-the-moment meetings, sales and marketing represented most of the time is hugely beneficial.
The agenda: identify problems, brainstorm solutions, and assign a workflow to be completed for the next meeting.
2. Creating a Partnership
Help build relationships between the two. Avoid having the dialogue reside at the top by promoting strong relationships at all levels. Although these two teams will continue to work separately, their coexistence in the customer journey is key. Aim to work more like one team. A norm is Sales Managers to Marketing Managers, but newer thinking suggests no managers at all. Make sure everyone in marketing is talking to everyone in sales including the sales reps. Mutual respect is earned as the two teams grow together, which is the ultimate goal.
3. Get Feedback
Gain feedback from marketing and sales in a variety of forms. One on one's, surveys, sales on leads, and marketing on sales rep success. This will help show if they're on par with the rest of their team. Ultimately, make sure that everyone feels safe and free to open up about what needs to be improved and brainstorm ways to fix the issues. The feedback will empower and build their relationships to solve problems more and more.
4. Align your vocabulary terms
Revisit your terminology to make sure you're speaking the same language. Sometimes the simplest word can be misinterpreted. A 'lead' can mean different things to different departments. Define what a 'lead' is, what an 'opportunity' is, what qualifies a 'prospect', etc. Discussing what your key metrics are will ensure that the definitions and expectations are understood by all. This will help when issues arise from sales suggesting that the leads are no good and marketing from indicating that sales aren't working the leads properly. And if they do, then they must back it up with data….
5. Gather Data
As the saying goes, data never lies. Provide data to communicate. If sales suggest that the leads aren't properly qualified, they need to back it up with data showing the metrics. Eg: the conversion rate is down or a key persona factor has become less relevant recently. Marketing will need to back up their sense of a failed sales effort by providing data too. Eg: the rep only followed up once or a new lead has been unattended for 3 days.
Are you ready to align your teams? Put these 5 tips to good use and watch your business grow!