This year's Inbound conference marked the first time we had been in person in 2 years. The new layout was a welcome change to years past events, and of course, the keynotes, break-out sessions, and networking were top-notch.
Our team divided and conquered and went to a variety of breakout sessions covering things like Category Design, Google Ad ROI hacks, email nurture and content creation tips + tricks, social engagement with video, and of course new with the HubSpot platform. We highlight some takeaways below.
Create Communities
The CEO of HubSpot opened the keynote with a look back at how COVID had brought isolation to many throughout the world. As humans, we need to feel connected and loved in order to grow, and the pandemic reverted us all back to basics. A few highlights and take away's from her talk were:
Disconnect #1: Non-integrated systems. In a recent HubSpot survey the #1 pain point companies are trying to solve for is having disconnected systems and data.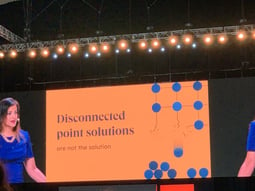 During COVID we all had to go digital over night, we put in place apps so quickly and rapidly that long term thinking of how things would integrate wasn't a consideration. The result? Ineffective. Stuck. Inefficient systems. Marketers and business owners and teams spending their time cleaning data not talking to clients. If we can't see a full view of how the business is working it's hard to make decisions on what's next.
Disconnect #2: The people disconnect. We crave communication and community. We all had a "pod" during COVID-it was the small group of "safe" people that you regularly interacted with. Girlfriend's wine night on Zoom, a socially distanced outdoor park playdate, a new parents online group. Whatever we have interests in, there are communities for that. Smart businesses rallied around the longing people had to connect and to this day promote being part of a group.
Disconnect #3: Companies disconnected from customers. How? Blogs and emails are now in digital overload mode….in a recent study over 65% of respondents reported digital fatigue.
One other thing to note: Privacy is now Queen 👑 You may have noticed fewer web content downloads, but why? Because email consent isn't FREE. It's a high price and people want to remain anonymous until they are ready to engage.
What does this all mean? that the old go-to-market strategies will not work. There is a new focus: not customer managers-customer connection. Connected customer growth strategy is where the future is heading. Is your business ready to grow a community?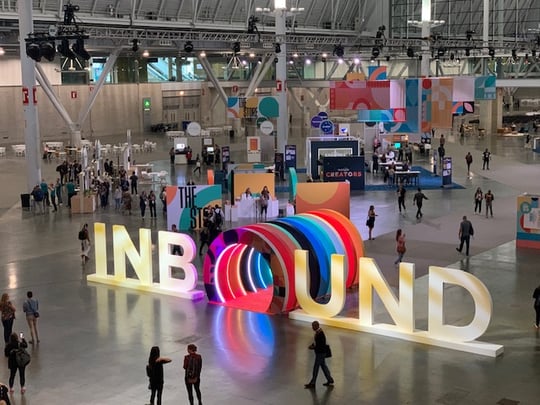 What's New with HubSpot Growth Stack
As always, Inbound product and service update announcements don't disappoint. This year there have been many updates to the CMS, Ops, Service, and Marketing Hub platforms, but making strides in Freemium > starter > pro > enterprise is what is driving adoption. We highlight some key improvements all customers will see (retroactively) as of November 1, 2022
5 new experiences we are excited about:
1. Marketing campaigns: next-gen tool update- use the custom report builder and edit as you need.
2. Customer journey analytics-NEW - dashboard - we can now see all touches in a timeline.
3. 60% of CRM data goes unused-HBR says just 3% of data is usable- that's nuts. HubSpot now offers Crafted Data Management- featuring: objects data report, new overview-custom object builder, property value data management, and settings (left side) format data tool, plus start/end date for contracts via data quality command center.
4. Customize the CRM- settings/properties edits- big for team views and customized UX for employees.
5. Connected payments/POS-on average companies use 5 tools to finish a sale for b2b- purchase, we are now offering paid meetings link, and a full suite of tools for users to easily offer POS online.
These are just a few of our favorites. Read the full report on what's new HERE.
How to Navigate Algorithm Changes w/ Neil Patel
One of the most interesting sessions this year was given by none other than Neil Patel. He's a guru when it comes to community building and subscriber engagement. He shared some tips on how to navigate the ever-changing algorithms.
His formula for success:
S = AS x (L+WPCI) Crack the algorithm code
Success = Algorithm signals x (Learning + What People Cant Ignore)

First-understand the algorithm signals
Second: Learning - know your audience/times, best content, time to post, type of posts (videos, pic, carousel)
Third: WPCI: Brands- Be so relevant people can't ignore you, deliver free tools/buy other tools, build your own audience/community, or win awards to attract diff aurdiences, go LIVE on streaming, etc
Example:
People google shoes: 1.6M times a month
People google Nike: 6M time a month
Google loves BRANDS-less likely to create spam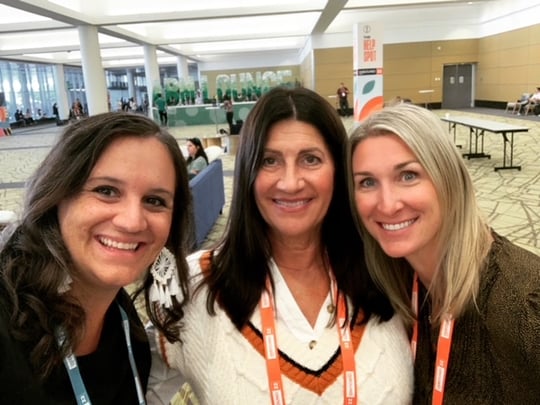 More of our favorite sessions were from Emma Grede (Good American), Viola Davis, Dharmesh Shah, and Sam Parr (The Hustle). We hope you found some of these insights helpful as you continue to refine your marketing strategy. If you need help planning a road map for success we are happy to help. Contact us here to learn more.
UPDATE: ChatGPT has entered the game...find out our thoughts on how that will impact everything >> video coming soon.