Not a Monday morning person? Then 52 times a year when the day rolls around it can be pretty brutal. The weekend is over, the work week begins, and everything in between rolls on. How can you fight these Monday morning blues? Check out these tips, and see why you should turn that frown upside down at the beginning of the week.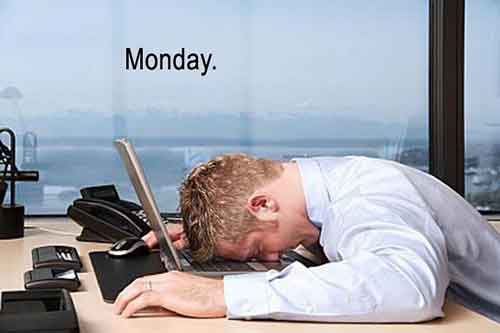 1. Consumer's are highly engaged with social media on Monday's: Think about our own habits; many people are recapping what happened over the weekend with their friend's and co-workers; they are planning the week and organizing events. It's a great opportunity to reach consumers as they are easing into the work week. By tailoring your message to be "watercooler" friendly you can engage with them as they catch up via Twitter, Facebook, and Instagram.
2. Get moving in the morning: People that are able to get their endorphines going in the morning are said to have more energy and a positive attitude through out the day. While, a full workout may not be in the cards, even starting with a brisk 10 minute walk will have lasting health benefits for the day, beyond just the business needs. Remember, happy people are productive people!
3. Have a Healthy Snack: Not everyone loves to eat a full meal in the morning, but it s proven that having something is better than nothing. Take an apple, or shake with you as you start the day and let the nutrients give you an extra jolt! A nice cup of coffee or tea can also aid in waking you up and helping get your brain ready for the tasks ahead.
4. Make a list of things to do: The feeling of accomplishment is something everyone needs. To help make the day more productive, creating a small list of to-do's will help keep you focused, and also allow for positive reward when that task is crossed off!
Turning into a morning person and fighting the Monday blues won't happen over night, but if you can start to embrace the beginning of the week, think of how much more productive you can be?! When in doubt, have an extra cup of coffee, turn on your favorite "get ready" song, and be thankful that you have an other day to give the world your best!