Navigating a pandemic a second year in a row proved challenging for many companies. Developing a strategy that offers a blend of digital and in-person communication is the key to growth and success as we turn the corner.
We are fortunate to work with some of the best brands in their respective industries, and it's exciting to see their strategies evolve to offer more growth opportunities and engagements with their target prospects and customers. The success our teams were able to bring clients this year via our strategies was awesome to see unfold. We highlight 4 (four) clients below where our team's impact was monumental to their overall achievements.
1. Content is King for MakeFloridaYourHome.com. This company is new but already making big moves in organic ranking. Starting from scratch, we built out their website on HubSpot CMS in September 2021, started using the HubSpot platform for marketing tech stack/CRM, and they outsourced their writing to Zerys pros for weekly content starting that month as well. When first launched we were a typical ranking for a new URL ~5+ million on Alexa, publishing 1 blog post per day. After a few weeks we increased the blog posting to 2x a day, and also started submitting an Image site map to Google Search console. Over the last 26 weeks we have gone from ~5+million to *as of March 9, 2022 we are ~477k -moving up over 4.8 million places in just 120 days! This is unheard of growth and leads us to phase 2 of our strategy, which will focus on conversions and lead capture now that we have traffic coming to the site.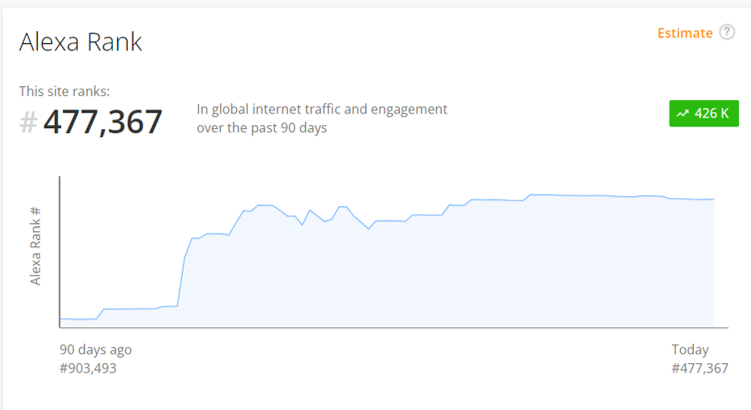 Takeaway: Content is king, SEO optimized keyword-focused writing, coupled with continuous publication will move the needle FAST. Also, resubmitting an image URL sitemap to Google weekly helps ensure the site is being crawled and the content is ranked quickly.
2. Customer communication leads to low churn and acquisition for ProEst.com. As a leader in the pre-con software space for over a decade, it wasn't until the strategy and focus shifted from pure lead gen to customer communication and delight that the biggest successes happened. As a HubSpot Enterprise and SFDC tech stack backend nurtured incoming leads through their sales process, we began to realize there was a breakdown come renewal time. To help ensure customers got serviced through onboarding and beyond we implemented monthly communications, various nurture sequences based on resource engagement, and used the HubSpot meetings link for Account Managers to maximize their time with their accounts. After just 6 months of these strategies in place, we saw a reversal in churn and an upswing in renewals, reviews, and happier account managers. All of this hard work poised the company for a partnership and recent acquisition with Autodesk. You can read all about that news here.
Takeaway: customer communication doesn't end once the prospect converts. It's imperative to keep growing by adding to, not just replacing the revenue with lead generation strategies.
3. How audits can help define strategy and scope of work investments long term: When we started working with stepupforstudents.org they had a lot of programs in place, but weren't sure what to keep and what to sunset. They also had a lot of systems to help them manage the various efforts and departments within the organization. In order to create a clear road map of suggestions and set up realistic investments, ROI, and introduce new levers that could lift the brand and lead generation efforts we first had to understand where we were coming from. Suggesting a 4-6 week audit of everything was something the team understood and invested in which was able to give our team the right data and knowledge to prepare a strategy that wasn't based on guesses but poised for success based on data. Even though this wasn't their typical process, it proved to be the right first step to ensure the partnership was set up correctly from the start. 6 months later and we are going strong, crushing our goals, and saving them money on previous tactics that allow for us to test new avenues they previously didn't think they could venture into due to lack of budget.
Takeaway: streamlining your technology and creating a central repository and source of tracking truth is one of the main keys to success. Being open to looking under the hood of your business will prove valuable in many ways. Limiting efforts to the traditional marketing plan and the "way we always do things" will keep you status quo, but what's the fun in that?
4. Website security upgrade for the win: We have all heard about how websites without the right security are vulnerable to takeover when you least expect it. In early 2021 that's exactly what happened to our client when a WordPress template breach affected millions of websites around the globe, theirs included. The company CSO was locked out of the backend and it was only a matter of time before the content was gone forever. HubSpot CMS migrations team was able to port over the existing content in less than 3 weeks to ensure that nothing was lost and the business no longer has to worry about their site being down disrupting client experience with the brand. Having the peace of mind of a secure and protected website means everything for the company and we were happy to have avoided the worst-case scenario.
Takeaway: evaluating your tech stack security is an ongoing must-do process. Hackers continue to evolve and picking the right partners can literally make or break your business brand and revenue growth.
Want to create a success story of your own?
We'd love to help. Connect with us today to talk about your needs.