With the fiscal year coming to a close, it's time to get your finances and new goals in order. How are you going to hit those new goals; with marketing efforts, of course! Below is an outline of categories within a marketing budget that you must consider when planning for growth.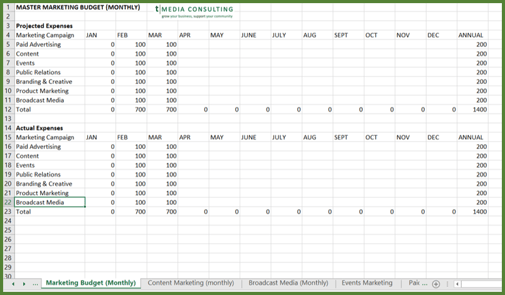 1. Content: This is your main lead generation vehicle. If you are looking for new leads and a full sales pipeline you have to figure out what will trigger engagement. What is the offer? How strong is your message? Are you a thought leader in your industry? Start with your FAQs and build out pieces of content from there; blogs, e-books, white paper. direct mail and/or print, pamphlets. This all falls under your content and creative budget.
2. Paid Search/SEO: With all the smart phones and mobile devices in the market, searching for your company is literally at people's finger tips. Having a strong search presence allows for people to find you. Search is the new phone book, so how are you actively staying ahead of your competitors? Having strong presence ranks you above your competition. In order to know what to create content around you first must establish a baseline for what people are searching for. Do a deep dive into keywords in your industry and determine what will produce the most traffic, the fastest. Partnering with an expert during this process might be helpful if you have never done it before.
3. Broadcast Media: Radio and Television are still 2 of the best ways to impact your revenue and brand authority. Using those mediums can be more expensive, but when part of an overall strategy, can significantly drive revenue and make campaigns more effective. Use these mediums to really make an impact locally, regionally, or nationally. With the demand for apps, and listening on demand companies like iHeart Media have done a great job transitioning terrestrial listeners into streamers. Lastly, Endorsement radio is one of the most powerful ways to break through the clutter; who in your market would be a good partner to get your message out?
4. Events: In-person seminars are a great way to get face time a couple times a year to your target audience and customers. These events (think: trade shows, seminars, expos) are better suited for certain industries over others, but can still have a positive impact for your company. Event promotion has to be a focus, but if that is solid-so should your event.
5. PR: This is earned press and community promotion. Has your executive board or company staff member done something note-worthy for the business? Has your company partnered with a charitable organization? Is your company within the industry making great strides and able to get recognition? These are all fabulous PR opportunities for your company. Following one of these opportunities up with an email and social campaign, you can make the most of your positive press!
The marketing strategy is the driver of your brand. How you interact with your community determines whether or not you are successful. Use this marketing budget template to ensure you are planning appropriately for all areas in which you will need to utilize to get the desired business results.